Snorkelvac maskin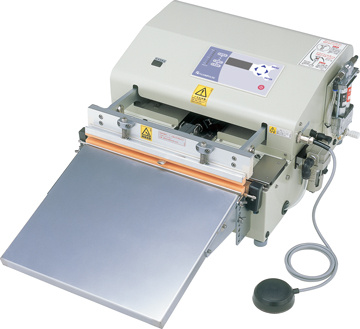 Snorkelvacmaskin med temperaturkonrtollerade svetsar (Onpul system). maskinen körs via fotpedal. Med olika program kan man bestämma svetstider och vakuum. maskinen kan utrustas med olika typer av pumpar för att klara ev renrumsmiljöer.
Maskinen kan utrustas med kodmärkare .
Se pdf för mer info
Specifikation
V-402 Series
Simple Operation
V-402 is a heavy-duty electric- powered vacuum sealer effective for maintaining perishable and other food products fresh, and for preventing
the oxidation of items such as parts, apparel, chemicals and precision machinery.
V-402 is equipped with the built-in compressor to generate vacuum as well as run the sealer's pneumatic functions. No separate compressor is not required and it is ready for use as soon as the power is turned on.
The setting of work method and vacuum method are all controlled
at the microcomputer controller.
A simple touch-screen operation
is all that is required to set the conditions, with details confirmed
on the LCD screen at every step.
Up to 10 work patterns customized by the user can be registered. By calling up a registered pattern on the microcomputer controller, the user can always perform a programmed work under the same condition.
Temperature Control Using
Temperature Sensor
Standard-equipped with the V-402 series of sealers is ONPUL,
Seal Air Only Cylinder &Vac Driven
ONPUL
Frequency 1,000 bags/day
the heating temperature control feature that allows the user
to set and maintain the ideal
heating temperature. This ability
to set and maintain the proper heating temperature for fusing
the film eliminates wasted energy consumption, improves sealing precision and minimizes wear and tear on the heating element and other parts.
Safety Measures
Anti-Overheating Mechanism
a. When overheating occurs (i.e., when power continues to be distributed to the heating element for longer than 4 seconds), the breaker turns off and the power is shut off.